About us
The Yokkaichi International Center (YIC) was established to promote mutual understanding and international friendship with foreign countries. In order to build an 'Open City', we carry out various exchange programs and events with the assistance of volunteers.
YIC is one stop for information for foreigners new to the city.

● Opening Hours and Holidays
Open from 9 a.m. to 5 p.m.
Closed on Mondays, national holidays, and year-end and New Year holidays 

● Contact & Access Information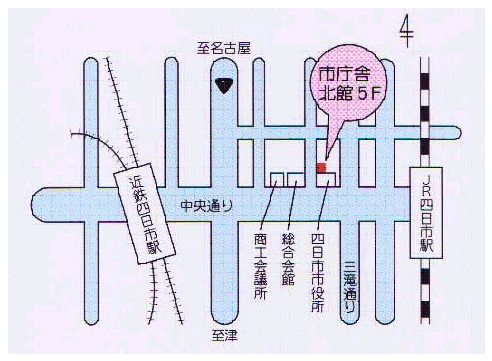 5th Floor, Yokkaichi City Hall Annex
1-5 Suwa-cho, Yokkaichi
Mie, 510-8601

Tel: 059-353-9955
Mobile: 090-6572-9440(Softbank)
Fax: 059-355-5931
E-mail:yic@yokkaichi-shinko.com


Japanese Lessons 日本語サークル(YIC nihongo circle)
At the Yokkaichi International Center, we always welcome non-native Japanese speakers to our tutoring lessons. They are basically for beginner to intermediate level students.
Please choose one day per week for 1 to 1.5 hours.
Your teacher will be a volunteer.
Participant Eligibility
※Non-native Japanese speaker
※Holding Japanese visa for more than 6 months
Caution
※If you have passed the N2 Japanese Language Proficiency Test, can only join our group lesson (Sunday class)
※If you have passed the N1 Japanese Language Proficiency Test, cannot be accepted.
※Cost: \2,000 for registration and \100 for each lesson.
Consultation
Free Consultations
An administrative scrivener gives an individual consultation regarding the procedures below. Free of charge.

- Application or change of a visa(the status of residence), renewal of the period of stay, application for permanent residency
- International marriage, divorce and adoption
- Acquisition of Japanese nationality, application for naturalization, etc

[Time]13:00-15:00, the third Sunday of each month
[Booking] By phone or email two days prior to appointment.
[Requested Information] Please have the following included in your email, or readily available when you call:
1) Name
2) Contact number
3) Nationality
4) Need for interpreter
5) Brief content
Only 3 appointments accepted each time(appointments are given on a first-come and first served basis.
Free Legal Consultation
[Time]13:00-16:00, the third Wednesday of each month
[Booking] By phone or email to appointment.

Daily Life Counseling
We provide information about daily life and can guide you to the appropriate service to suit your needs.
Events
At the Yokkaichi International Center, we hold various kinds of events, for your enjoyment, and to help you meet new people. More information is provided at the address below.
http://yokkaichi-shinko.com/yic/event.html

Events to be Held
*Reservation is required to participate in each event.
*Please contact YIC for more information.

Translation
Procedure
1) Filled up the application form and submit to YIC
2) YIC will look for the volunteer
3) Volunteer will submit the translation to YIC
4) YIC will contact the client

Price
◆ Translation: 1000yen per a hour (without the other cost)
Please remind that translator is a volunteer, be careful to ask when you are doing Negotiation, Medical Act, or so on.
◆ Interpreting: 2000yen/1 sheet (800words limit)
◆Additional Service: native check=1000yen/1 sheet
◆Please pay the fee when you apply.

Volunteer
We are always seeking new volunteers.
Why don't you help people who speak the same language?
Types of volunteer
1) YIC 日本語サークル (Nihongo Circle)
You will teach Japanese to non-native Japanese speakers.
There are few who cannot speak Japanese at all, so you may be able to help them understand basic Japanese.
2) Translator or Interpreter
You will use your mother language to support the people from your country.
3) Event Volunteer
Volunteers who can help at our various events.
If you want to show your country, or if you want to meet new people, please come and join us.
Volunteer System
1: Registration at our office
2: We will send you information after your registration has been completed.
3: If you want to be a tutor, you will meet a student before tutoring any class.
4: If selected to be the event volunteer, we may request a meeting with you.
5: Then your work will start.